SIFT is a Christian charity, seeking to demonstrate God's love by sowing seeds of hope in Nicaragua.
We have been working in Nicaragua since 2000, becoming a registered UK charity in 2002. Our founder, Dick Bell, saw that many children in Nicaragua were not able to attend school, and was challenged to do something to rectify this situation. Helping children to achieve a good standard of education remains one of our priorities, and we currently support around 130 children in Nicaragua, primarily in the town of Bluefields.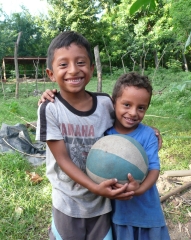 From this small beginning, SIFT has grown rapidly and has taken on a number of projects to help the plight of the poor in Nicaragua. Our current projects in Nicaragua include:
Running health clinics on the island of Ometepe to provide affordable healthcare to rural communities.
Sponsoring the education of children and young people.
Supporting the work of a Christian orphanage.
Developing a new community on the Asese peninsula to provide homes for islander families.
Supporting the ministry of churches and Christians in various areas of Nicaragua.