A good education is a crucial part of a child's development, and can open up all sorts of opportunities for their future.
This is particularly important in the town of Bluefields, on Nicaragua's Caribbean coast. Bluefields is home to around 40,000 people, but there are only limited road links to the rest of the country. Unemployment in the town is high and many families struggle to make ends meet.
SIFT is helping to bring hope into Bluefields by sponsoring the education of children from some of the poorest areas of town. Sponsorship enables these children to go to fee-paying schools, which have better facilities than state schools and offer a far higher standard of education. We support children throughout primary and secondary school, and even through university if they so desire. We hope that the opportunity of a good education will enable them and their families to move out of poverty.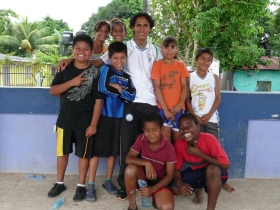 José Vivas was sponsored by SIFT through his secondary and university education. Whilst studying biology at university, Jose also took a teacher training course. He now works as a primary school teacher, passing on the gift of education to other children in Bluefields.
Sponsors from the UK pay £15 per month to sponsor a child's education and receive an annual update on their child, including a photograph. If you would like to start sponsoring a child you can either download a Standing Order form or setup a regular payment online.