In the Spring 2019 issue:
The chain of hope • Other ways to support SIFT • SIFT is looking for…
The chain of hope
There are so many problems in the world today that it can be easy to feel like we can't make a difference. Families in the developing world struggle to survive financially, vulnerable to disease, and children grow up without opportunities.
By supporting SIFT you are having an impact on the lives of people living thousands of miles away. In this edition of the Insight we look at the vital role your donations play in the lives of three young women in Nicaragua.
A family on the edge
Maria, who turns 18 this year, lives with her mum and two sisters in a small house made of wood and tin. Her parents are separated and her father, who now lives in Costa Rica, has not contributed financially to his children for four years. Maria's mum does what she can to make ends meet by selling food and washing clothes but it's not always enough and she sometimes begs on the streets, taking her youngest daughter with her. Maria is under pressure to earn money in whatever way she can to help her family, which puts her at risk of becoming involved in the sex trade. As a result she was referred to Casa Rahab, a Christian centre partly funded by SIFT which helps girls like Maria and those who have been involved in the sex trade. Before she came to Casa Rahab, Maria was repeating the first year of secondary school for the fourth time and was not motivated to study. The team at Casa Rahab stressed the importance of getting a good education and this year Maria will finish secondary school and is hoping to go to university.
A better future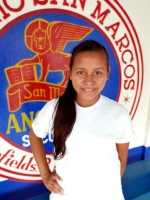 Kaysi lives in Bluefields with her mum, dad, younger brother and sister and her grandmother. Kaysi's mum spends her time taking care of the family and her dad is employed on a construction site if there is work available. Kaysi was sponsored by SIFT for both primary and secondary school and was often awarded the 'student of excellence' prize. When she was ten she said that she wanted to become a doctor so that between her and God they would make people better.
Sadly Kaysi recently developed a back problem which, despite receiving physiotherapy, has prevented her from achieving this dream. However, this February Kaysi started to study for a degree in the administration of ports and airports and will continue giving her best so that she is successful in her new chosen career.
A compassionate cure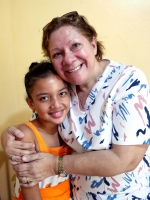 Maripaz (pictured with Dr Sandra) lives with her family on the island of Ometepe. She was suffering from severe constipation, so her mother Marta took her to see several specialists in Nicaragua's capital, Managua. Despite being prescribed expensive treatments Maripaz's condition did not improve.
When Marta heard about SIFT's clinics she decided to bring Maripaz to see Dr Sandra in the hope that she would be able to help her daughter. The medication that Dr Sandra prescribed cured Maripaz's constipation and was supplied to the family free of charge. Marta was very grateful to God and to SIFT for the care her daughter received.
A part of their story
Everyone who is involved with SIFT is a part of these young women's stories, from those who pray or make a donation, to our office and admin staff, to our team on the ground. Together we can continue making a difference.
We need your help
We are very grateful to everyone who gives regularly or has given a one-off gift to our general fund. We rely heavily on these donations to fund the feeding programme and Casa Rahab, to enable us to respond to additional needs in Nicaragua as they arise, as well as to pay our administration costs and office staff in the UK and Nicaragua.
Over the last few months we have had less one-off donations than we have received in the past. If this trend continues it will mean that we will struggle to meet our costs in the next few months. If you are able to help us by making a donation to SIFT, on a one-off or regular basis, please send a cheque to the SIFT office or make a donation online.
Also in this issue: Other ways to support SIFT • SIFT is looking for…
---
Other ways to support SIFT
There are many ways that you can support SIFT through the year to suit the time and resources you have available. Here are some ideas to get you started:
SIFT Sunday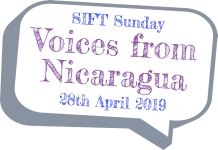 SIFT Sunday is a fantastic opportunity for your church to learn about, pray and raise funds for our work. This year SIFT Sunday is on 28th April and we will be hearing directly from some of the people SIFT is seeking to help. Please save the date in your church calendar and consider holding a special service or fundraising event. We have lots of exciting new resources to help you have a great SIFT Sunday which you can download from our website.
Fundraising and Sponsored events
If you have a hobby that you enjoy why not get sponsored to do it in aid of SIFT? It doesn't need to be an extreme sport; you could do walking, cycling, reading or knitting. Alternatively you could hold a coffee morning, frugal lunch, games evening or table-top sale to involve your community in raising funds. We'd love to support you in your event so please get in touch with Ali for sponsorship forms or any other resources you need.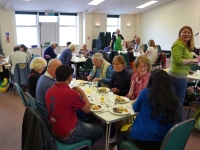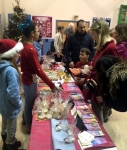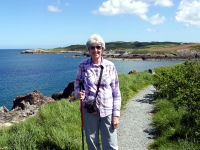 SIFT Gifts
If you're struggling to find the perfect present for a birthday, wedding, Mother's or Father's Day why not buy your loved one a SIFT Gift? Each gift makes a big difference to the lives of people in Nicaragua and helps them live healthier lives. What could be better? You can order any of our current gifts from our website.
Also in this issue: The chain of hope • SIFT is looking for…
---
SIFT is looking for…
…a Director
We are looking for someone who:
Driven by their Christian faith, can be passionate about delivering spiritual and physical hope to the poor of Nicaragua.
As the charity's Chief Executive, can give vision and direction to SIFT projects in Nicaragua and to manage the support work in the UK.
Is able to take the role on a non-salaried, expenses only basis and can give at least two days a week to the work.
Is available to travel in the UK and, as the need arises, to Nicaragua.
Applications are invited by 30 April 2019.
For applications and further information, including a job profile, please contact Mark Catley, Chair of Trustees.
…Trustees
We are looking for people who:
Desire to apply their Christian faith to help manage the SIFT charity, delivering hope to the poor of Nicaragua.
Have experience or skills to contribute to the work of the Board of Trustees (in particular, but not exclusively, in finance / accounting).
Are able to attend three Board meetings a year (Skype can be arranged).
Applications are welcome at any time.
For applications and further information please contact Mark Catley, Chair of Trustees.